AIRBORNE LiDAR
An Airborne Lidar system consists of a laser scanner, an IMU (Inertial Measurement Unit), and a GPS (Global Positioning System that are attached to the air vehicle (helicopter, airplane). This system produces a point cloud containing the X,Y,Z coordinates of the scanned surface or object.
Delta Lidar with its expert Lidar Team (more than 10 years) and up to date Laser Scanning Equipment serves for the sector; agriculture, forestry, air transportation, energy, construction municipality, mining, and transportation.
We develop fast and economic solutions in producing corridor type maps for land survey and planning of projects including pipe lines, power lines, highways, and railways; hydrographic works such as flood disaster analysis; and producing risk maps for natural disasters such as landslides.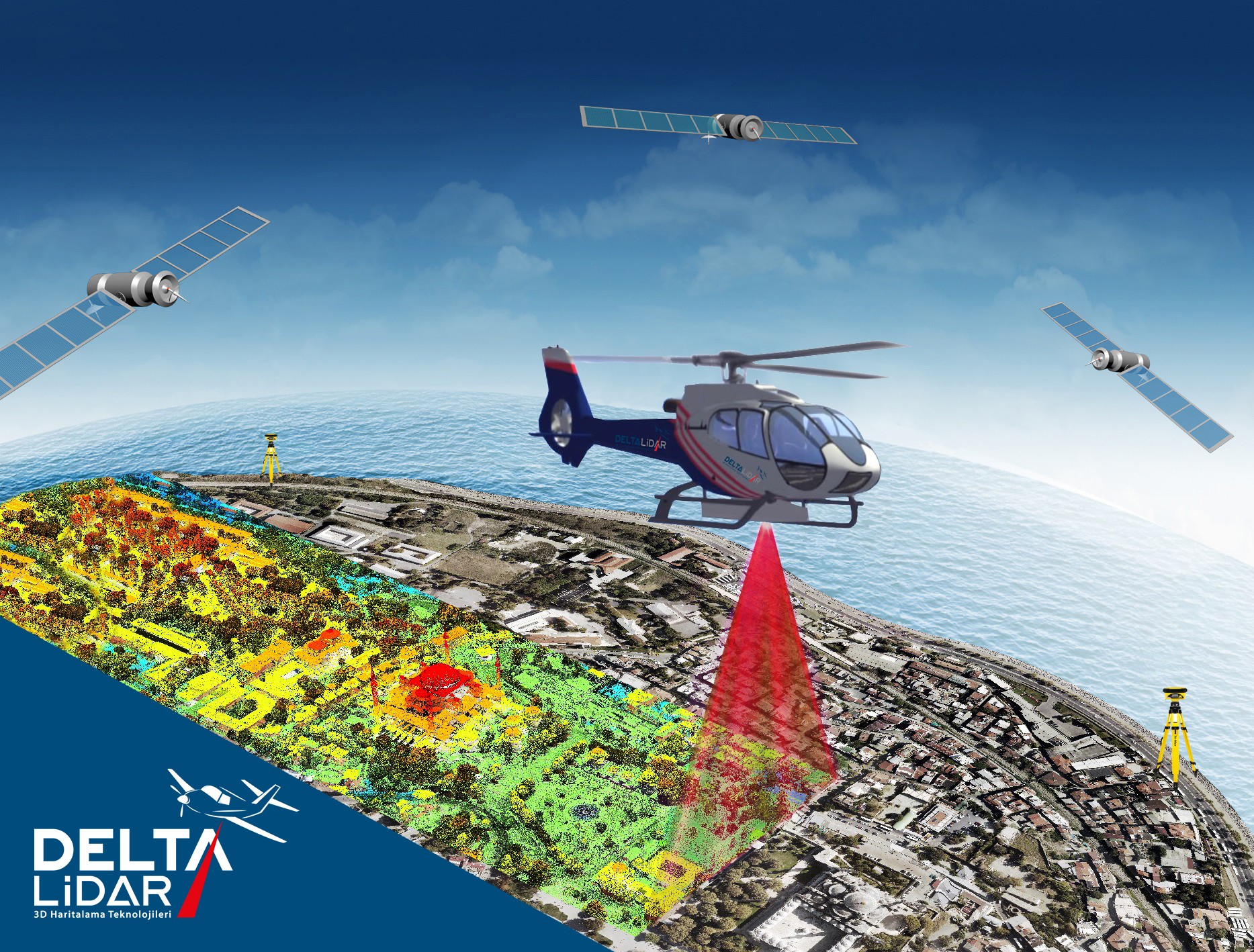 AIRBORNE LiDAR
Service BROCHURE
For detailed information;
you can review our Airborne Lidar BROCHURE.
DOWNLOAD BROCHURE
ADVANTAGES OF AIRBORNE LIDAR APPLICATIONS
Airborne Lidar makes possible to map very wide areas in a short time period and lower cost with no compromise on the accuracy of measurements.
Time
Cost
Accuracy
Precision
WAVEFORM TECHNOLOGY
Waveform technology in Lidar Systems allows laser pulse to move forward by being shattered after hitting an object. With this specialty, many returns are received from a laser pulse. Laser pulse obtains data not only from tree surface but also from the topography, buildings, power lines etc. beneath the trees and forest in lands occupied with dense forest or other type of flora. DeltaLidar analyzes the waveform data of 3D point cloud generated by the Airborne Lidar system and produces Digital Elevation/ Digital Surface Model of the topography beneath the forest by classifying the point cloud data.
&nbsp &nbsp CHANGE DETECTION ANALYSIS
Delta Lidar automatically detects the changes on a land by comparing the data obtained from the same region at different times. Change detection analysis helps to detect;
Illegal construction of new building or addition of new floors.
Illegal cutting of trees in forests.
Illegal burying of construction debris
&nbsp &nbsp FLOOD-HAZARD ANALYSIS
Flood Hazard Analyses produce very accurate outcomes as the Digital Elevation and Digital Surface models obtained from the Airborne Lidar point cloud are the very close representation of the land to the actuality in 3D format.
FLIGHT PLANNING

Flight plan is designed by taking into consideration the requested point cloud density (number of points per m2) by the customer and the shape of the land, technical features of the laser scanner and the air vehicle etc.

FLIGHT OPERATION
AND DATA COLLECTION

Data is collected by installing ground control stations and ground control points and considering the flight schedule and weather conditions.

DATA BALANCING
POINT CLOUD PRODUCTION

Raw data set obtained from laser scanning is transformed into a point cloud with waveform analysis. This point cloud is precisely coordinated using coordinates balanced with data sets received from GPS, IMU, and ground control stations.

POINT CLOUD, DIGITAL MODELS, BASEMAP ve ORTHOPHOTO

Coordinated point cloud is firstly classified into groups such as topography, flora, buildings, and energy transfer lines. Then, Digital Terrain Model (DEM / DTM) and Digital Surface Model (DSM) are produced using the classified point cloud. An Orthophoto is produced from previously obtained photographs. Base maps are developed using the point cloud and photographs.

QUALITY CONTROL AND REPORTING

An outcome report is prepared and delivered to customer by processing the produced Classified Point Cloud, Digital Terrain Model (DEM / DTM), Digital Surface Model (DSM), Orthophoto, and other maps very carefully.